We are the UK Government's independent adviser on sustainable development. Through advocacy, advice and
appraisal, we help put sustainable development at the heart of Government policy
'Green stimulus' needs to match ambition of climate change targets
4 December 2008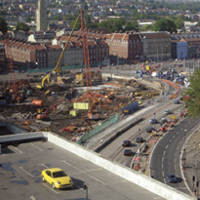 The Sustainable Development Commission welcomes the Committee on Climate Change's ambitious recommendations for Britain to take a global lead on reducing carbon emissions.
Tim Jackson, Economics Commissioner at the Sustainable Development Commission, said: "Given the scale of the challenge we face, the Committee on Climate Change is absolutely right to set exacting targets for the UK to reduce its carbon emissions. We are delighted to see that these should be met through a combination of increased efficiency, and cleaner forms of energy and transport.
"The government's welcome for this report increases its moral authority in the international climate change talks beginning in Poland today. However, the fundamental rethink of national policy which will be required to meet these targets highlights the woeful inadequacy of the 'green stimulus' announced in last week's Pre-Budget Report. The only appropriate response to the current economic crisis and the impending crisis of climate change is a much more comprehensive programme of investment in low carbon technologies, energy efficiency, green businesses, and the upgrading of Britain's buildings.
"Instead, we are still seeing plans for road widening, increased use of fossil fuels, and airport expansion, instead of a forward-thinking approach to investing in transport and energy shifts which will contribute towards re-building Britain's economic resilience. Full government backing is going to be needed for the kind of low-carbon industrial future envisaged by the CCC.
"This report should illustrate once and for all that what we should be seeking in the face of our current economic crisis and the impending crisis of climate change is not a return to business as usual. What we need is a wholehearted political and economic commitment to achieving a sustainable Britain."