We are the UK Government's independent adviser on sustainable development. Through advocacy, advice and
appraisal, we help put sustainable development at the heart of Government policy
SDC Commissioner convenes session with key public sector leaders
2 June 2008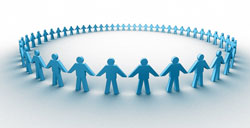 As the SDC in Wales begins the task of delivering its refreshed work programme, Peter Davies, SDC Commissioner for Wales held a session in North Wales with key public sector leaders.


Reflecting on the session, Peter Davies said:
"Sustainable development is now a key agenda in Wales, with many public sector bodies now leading the way across the country. In our capcity as advisers to government, it is absolutely vital that we learn from the experiences of those who are already making real progress, and feed exemplar work into our work programme to ensure that the public sector across Wales can build on the success stories.

The session with North Wales leaders was exactly the kind of learning that will be so invaluable to the SDC's work, and public sector bodies here, from local authorities to higher education institutes and organisations like the police and the NHS have much learning to share."
Key issues discussed during the session included:
• The importance of turning rhetoric into real action
• The reality of delivering effective carbon reduction strategies and increases renewable energy resources
• The importance of consistent, clear guidance, and strong leadership to deliver renewable energy solutions
• The need to put sustainable development at the heart of decision making and governance
• Making sure that decisions are judged against the principle of "does it make it easier for citizens to lead sustainable lives".
• The importance of engagement around sustainable development to support and enable community action around energy reduction, renewables, local purchasing etc.
• A need to focus on the real and achievable – on the positive tangible benefits, like quality of life, as opposed to intangibles like carbon reduction.