We are the UK Government's independent adviser on sustainable development. Through advocacy, advice and
appraisal, we help put sustainable development at the heart of Government policy
Recession To Resilience
14 December 2009
Academics and business people joined representatives from government and the public sector at an SDC event in Bangor on 17 November 2009.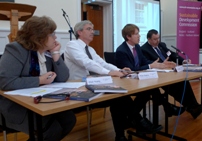 The 'Recession To Resilience' event was part of the Commission's 2 day plenary at the Bangor Management Centre, which was an opportunity for SDC Commissioners and staff from across the UK to talk to experts based in the area and to find out more about sustainable development issues in Wales. SDC Chair Will Day, Wales Commissioner Peter Davies and Acting Chief Executive Maf Smith spoke about the Commission's work, including the influential SDC report on a sustainable economy, 'Prosperity Without Growth?'.
3 experts formed the panel for the debate: Einir Young, Head of Sustainable Development at the Welsh Institute for Natural Resources (WINR), Eryl Vaughan, Managing Director and co-founder of renewable energy company Windpower Wales and Ian Williams, Director of International Business Wales (IBW). Topics covered in the lively bilingual discussion included business growth and competition, resource use and global inequalities and the effects of climate change.
Speaking after the event, SDC Chair Will Day said: "I am grateful to all those who attended our debate in Bangor. We want to promote a constructive discussion in Wales about how we build a more resilient economy in the face of resource depletion, climate change and recession. It is important that we engage with all sectors in order to provide the best possible advice and support to government."