We are the UK Government's independent adviser on sustainable development. Through advocacy, advice and
appraisal, we help put sustainable development at the heart of Government policy
'Setting the Table' - SDC advice to Government on Sustainable Diets
16 December 2009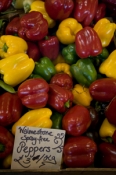 A new report published by the Sustainable Development Commission finds that eliminating waste, cutting fatty and sugary foods and reducing meat and dairy consumption would make the biggest contribution towards improving health and reducing the environmental impacts of the food system.
Setting the Table: Advice to Government on priority elements of sustainable diets, commissioned by Defra, assessed the environmental and health impacts of changing patterns of food consumption. It concludes that there is strong evidence that many changes in consumption which benefit the environment also have the added advantage of improving nutritional health in Northern Ireland and across the UK Our food chain and dietary choices have huge environmental impacts, as well as affecting our health.
Emissions from agriculture represent 21% of total greenhouse gas emissions in Northern Ireland in 2007, a significantly higher proportion than the UK average (7%).
The SDC's research found evidence that consuming only fish from sustainable stocks; eating more seasonal food; cutting out bottled water; shopping on foot or over the internet and consuming more wildlife-friendly, organic foods would also contribute towards a more sustainable diet. However, the most significant health and environmental benefits were from reducing meat and dairy; cutting food and drink of low nutritional value – including fatty and sugary foods – and reducing food waste.
The Sustainable Development Commission is calling for all food advice generated across Government to incorporate environmental considerations as well as health guidance, and for sustainability criteria to be incorporated into public sector catering standards. It also recommends further research on particular sustainability 'hotspots' – including meat and dairy, fish, soy and palm oil – and how different methods of production can affect sustainability.
Jim Kitchen, Head of the Sustainable Development Commission in Northern Ireland stated:
"In Northern Ireland we need to eat in ways that benefit our health and the environment. Farming is one of the mainstays of our economy in Northern Ireland – it is essential that it remains central to our region's economic stability as we move towards a low carbon future. That is why the industry has a vital role to play in providing a sustainable diet. We know that livestock production can sometimes be good for the environment: for example, grass-fed animals on hill farms can result in carbon capture.
We are fortunate in Northern Ireland to have a food sector is which is building a strong international brand and has a unique opportunity to meet future demand for high quality, more sustainable products at home and abroad. Farmers here can profit from supplying low-carbon, healthy and secure food in a way that makes best use of the nature of the climate, culture and geography of Northern Ireland."
"As we in Northern Ireland look to play our part in reducing our Green House Gas emissions and ensuring that our rural communities are protected into the future, we need to think of new and innovative ways to tackle some of the issues we face. Much good work around renewable energy sourcing and usage has already been undertaken by the Department for Agriculture. This report raises complex issues around meat and dairy production and more work needs to be done to address them. However, where there are problems, let's deal with them and build on the good work that is already being done in protecting and developing Northern Irish agriculture."
"Our report finds that there is already sufficient evidence to chart a direction for a sustainable food system. Advice to consumers ought to change, and stop compartmentalising health, environment and social issues. Where there are problems, let them be faced. That's the spirit called for by this report, which is designed to build on the good work already going on in a wide range of different areas."
Setting the Table: Advice to Government on priority elements of sustainable diets was commissioned by Defra as part of its Food 2030 project. The report is available to download here