We are the UK Government's independent adviser on sustainable development. Through advocacy, advice and
appraisal, we help put sustainable development at the heart of Government policy
Hugh Raven steps down as SDC Commissioner
17 March 2010
SDC Commissioner Hugh Raven can look back at a project portfolio ranging from wood fuel and tidal power to food and aviation. It has been groundbreaking work shifting the focus of policy development both in Scotland and the rest of the UK. On a more personal note he is pleased to have helped bring duvets to the Caledonian sleeper.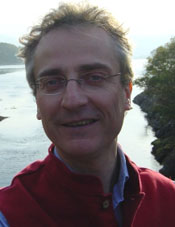 Hugh Raven is a master of tight rope walking. Not literally – but the kind of tight rope walking involved in being government's critical friend. His ability to bring different views together and defuse difficult relationships has been a key tool in his work as SDC Commissioner for the last 6 years.
Informing debate
This was not least the case in his work on aviation, where SDC brought together the views of a wide range of stakeholders to inform national debate and achieve greater consensus as a basis for policy decisions.
Hugh said: 'We questioned the business case for airport expansion and that had not had any purchase before. Our aviation work showed how SDC at its best delivers a thoughtful framework for debate and engagement. It is about giving Government confidence to make what are sometimes difficult decisions – though in this case, the key decision in question went against our advice.'
Seeing the connections
Far from airport expansions, Hugh is passionate about sustainable economic development in rural areas of Scotland.
Fellow commissioner Jan Bebbington thinks Hugh's strength lies in this ability to work across sectors. She said: 'He links land, energy, food and transport in a particularly useful way - reinforcing the interconnectedness of sustainable development.'
As a director of the Soil Association Scotland, food policy is an important area for Hugh. He is pleased to see the strengthened focus on food security in Scotland, and through that a focus on agriculture and 'growing our own'.
'We have so many resources in Scotland, and yet a diet-related health record that's among the worst in Europe. One way of improving it is growing more of our own vegetables. That's not just about getting fresh fantastic produce, it is very important for our overall well-being. Health and diet are a much bigger consideration now than just a few years ago. The indicators are still not going in the right direction, but at last Scotland is giving this area the policy attention it deserves.'
Scotland more sustainable
He believes Scotland is far more sustainable now than when he joined the Commission, and he feels SDC Scotland is established as an important advisor and informs policy making on all levels.
'The SDC team in Scotland is established as an important part of the Scottish Government fabric. If SDC Scotland did not exist, the Scottish Government would need to invent it.'
When he steps down as SDC commissioner he hopes to make his own life more sustainable, practicing sustainable principles on his own land in Morvern and spending less time on the sleeper up and down to London.
'I have been on the sleeper an average of at least once per week for years, and I just couldn't work out those blankets that kept ending up on the floor. I have been told the duvets were a result of my chivvying. They are terrific!'
For the duvets and all his good humour, fantastic support and generous sharing of insight, the SDC team in Scotland would like to say a big 'thank you'.