We are the UK Government's independent adviser on sustainable development. Through advocacy, advice and
appraisal, we help put sustainable development at the heart of Government policy
Delivering Low Carbon Regions
15 June 2010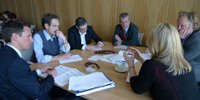 The SDC has worked with the Welsh Assembly Government to hold a series of workshops around Wales as we begin the second stage of the 'Low Carbon Regions' project, aimed at cutting carbon emissions in each region of Wales.
It follows the publication of the Low Carbon Wales report last year, in which we set out detailed advice on how each part of the country can become a 'low carbon region'. The advice was primarily designed for the Wales Spatial Plan Area Groups, who bring together representatives from the public, private and third sectors in each region.
In recent months the Commission has worked with these groups to begin making these emissions cuts a reality. We have held workshops in St Asaph, Bangor, Aberystwyth and Carmarthen. Another will be held in South East Wales soon.
The workshops began with presentations and discussions of how well each region is doing on reducing carbon emissions so far. Participants then split into groups, looking in more detail at what needs to happen in that region in different fields, for example land use or transport. They identified barriers and opportunities and also what the next steps should be and who needs to act.
Dr Gavin Bunting, SDC Senior Policy Advisor, explained why the workshops are important:
"The workshops are designed to help the Wales Spatial Plan Area Groups put carbon reduction into practice, using the expertise and ideas of participants along with our advice to identify what needs to be done first and who needs to do it. As each region sets up a Low Carbon Working Group, the workshops will help them start taking action. I am grateful for the large number of people who contributed to the workshops and show such enthusiasm to reduce carbon emissions across Wales."
For more information on this project please contact Dr Bunting on g.bunting@sdc.wales.ac.uk