We are the UK Government's independent adviser on sustainable development. Through advocacy, advice and
appraisal, we help put sustainable development at the heart of Government policy
SDC agrees work in Wales for the year ahead
15 June 2010
The Commission in Wales has agreed its plans for 2010-11 with the Welsh Assembly Government.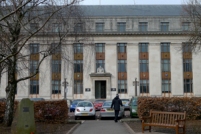 The Sustainable Development Commission has agreed a delivery plan for its work in Wales in 2010-11, focussed on the key challenges facing government and aligned with its work across the rest of the UK.
The Commission will be working under five themes:
The transition to a sustainable economy

Creating sustainable places

Making Government more sustainable

Wellbeing

Enabling more sustainable lives.
Some of the work will follow from the Commission's work in 2009-10. This includes continuing to work with the Wales Spatial Plan area groups on the Low Carbon Regions Project, support the Climate Change Commission for Wales and support the Low/Zero Carbon Hub in helping to reduce carbon emissions from buildings. We will also carry out a second assessment of the environmental sustainability of the Assembly Government estate and produce a commentary for the Assembly Government's Sustainable Development Annual Report.
The economy will form another important part of our work over the coming year and we will contribute to the Assembly Government's Economic Renewal Programme as part of this.
Peter Davies, SDC Commissioner for Wales, said:
"We are pleased to have agreed a plan for the year ahead which will help the Welsh Assembly Government tackle some of the most pressing issues facing Wales. We want to see the Assembly Government succeed in making sustainable development its central organising principle, especially given the pressure on public funds and the need to make money go further. Using our unique role as an independent advisor to the Welsh Assembly Government, we aim to help deliver a better quality of life for people in Wales both now and in the long term."