We are the UK Government's independent adviser on sustainable development. Through advocacy, advice and
appraisal, we help put sustainable development at the heart of Government policy
Visit to The Works, Ebbw Vale
18 October 2010
SDC Wales Commissioner Peter Davies, along with SDC staff, recently toured The Works at Ebbw Vale.
The former steelworks site – the size of 200 football pitches - is being transformed. The steelworks closed in 2002 and the cleared site was bought by Blaenau Gwent council and the Welsh assembly Government in 2005. Since then the joint venture has begun redevelopment – a 10 year, £350m project.
Projects Officer Helen Reardon took the commissioner and staff on a site tour. The new hospital – Ysbyty Aneurin Bevan – is already built. The tour also took in the General Offices, which is the grade II* listed building that is currently being refurbished, the Environmental Resource Centre and landscaped areas for walking and cycling. Low carbon housing is also part of the project, with various low carbon pilot houses being trialled under the 'Welsh Future Homes' project.
The group also met Richard Crook (Project Director) and were given a presentation by Employment Manager Kath Hackman about how the project is providing jobs for local people.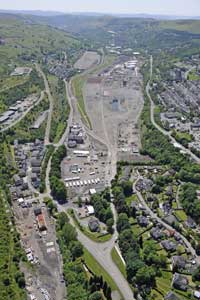 Peter Davies said: "The Works is an example of a more sustainable approach to regeneration – bringing long term benefits to the people of the area, rather than simply maximising short term profit. I was impressed by the way in which social elements, such as providing jobs and areas for recreation, are being combined with environmental improvements and sustainable economic development. It's important that regeneration projects invest in giving people a better quality of life and enhancing their environment, while avoiding negative effects such as social exclusion, poor health or contributing to climate change. The Works is a very large project but there are good lessons here for regeneration projects of all types across Wales."
Richard Crook, Project Director said:
"We strive to ensure sustainable objectives are at the heart of The Works project and were delighted to welcome Peter and SDC staff to the site. We are determined to make The Works a site that provides a better quality of life for people in the Heads of the Valley in a way that respects the environment, with a project that is fit for the future. It is fitting that a site which was once home to the first, high carbon industrial revolution is part of the low carbon, sustainable revolution we need to see in 2010."
The Works will eventually include upto 720 new houses, a wetland park, business premises, Environmental Resource Centre, and new community hospital. The National Eisteddfod was also held there in August 2010.