We are the UK Government's independent adviser on sustainable development. Through advocacy, advice and
appraisal, we help put sustainable development at the heart of Government policy
Commission responds to Welsh food plans
18 October 2010
The SDC has urged the Assembly Government to produce clear plans for action to back up its new strategy: 'Food For Wales, Food From Wales'.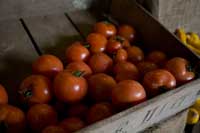 In its response to the consultation on the draft strategy, the Commission says that rising food costs and food inequalities can only be effectively tackled by using a sustainable, integrated approach.
We have welcomed the development of the strategy but also highlighted some important gaps, which include:
Issues of food poverty and inequality. The negative health impacts of such inequalities are well documented and Wales has higher rates of obesity than the UK average.
The importance of food grown directly at home and on allotments. While currently a small part of the food market, it can be expected to grow as food prices increase.
Fundamental questions of Wales' future food capabilities are not addressed in the draft strategy, including the approach to soil fertility, how to tackle high meat and dairy consumption and how to tackle issues of cost of home-grown produce such as cereals.
The SDC has underlined the risk that food risks falling between policy portfolios, because of its cross-cutting nature. While recognising the role of consumers and the market, we have also stressed the important role for government and businesses to drive change such as through regulation, enforcement and procurement.
Our response to the Assembly Government's consultation made a number of recommendations, including:
The Assembly Government should develop an effective National Council on Food Policy and Research. This could be an enhancement of the role of the existing Food and Drink Advisory Partnership, to include a greater emphasis on emerging science and research findings.
Food manufacturers and processors should be given sufficient support to operate profitably and sustainably, given that food is not a sector under the Economic Renewal Programme
Effective implementation plans will be critical to help stakeholders begin their journey towards a sustainable food system
The Commission concluded that with its vision for the future of food in Wales, the Assembly Government is positioning itself well to achieve a truly sustainable system of production and consumption.
» Download the SDC's response to the consultation on a Food Strategy for Wales