We are the UK Government's independent adviser on sustainable development. Through advocacy, advice and
appraisal, we help put sustainable development at the heart of Government policy
Commissioner appointed Chair of climate group
18 October 2010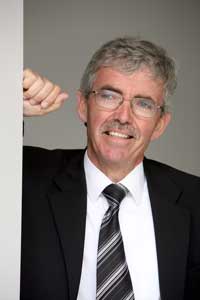 SDC Wales Commissioner Peter Davies has been appointed as the first independent Chair of the Climate Change Commission for Wales and takes up his post this month.
The appointment was announced by the Environment Minister, Jane Davidson, who until recently chaired the Climate Change Commission herself. The Minister announced earlier this year that a new independent chair should be appointed to the Commission to consolidate its position as an independent advisory body, capable of creating cross-party and cross-sector consensus on climate change.
Speaking about the appointment, the Minister said:
"Since it was established in 2007 the Climate Change Commission for Wales has played a key role in convincing the public sector, businesses, voluntary organisations, individuals and communities in Wales of the need to take action to tackle climate change.
"It has also provided valuable input into the development of Assembly Government's Climate Change Strategy which I will be publishing next month.
"I am delighted that Peter Davies has been appointed to this position. I have worked closely with Peter in recent years, and know that he is incredibly well-respected and has the necessary skills and expertise to the make a success of this new challenge. I wish him all the best in this important role."
Peter Davies will take up his new role in addition to his existing role as SDC Wales Commissioner. He welcomed the appointment:
"I feel honoured to be offered this position and look forward to making sure that the Climate Change Commission for Wales continues to bring together people from different sectors to work towards the common goals of cutting our emissions and adapting to the effects of climate change. The Minister has been an excellent Chair to date, but it is right that the Commission now has an independent Chair to take its work forward."