We are the UK Government's independent adviser on sustainable development. Through advocacy, advice and
appraisal, we help put sustainable development at the heart of Government policy
Low Carbon Regions
9 March 2011
In 2008 the Sustainable Development Commission was commissioned to begin a major initiative, supporting the Welsh Assembly Government in making every part of Wales a 'low carbon region'. The SDC has been working with government officials and other stakeholders, developing advice on how to cut emissions in an appropriate way for each region and bringing people together to coordinate action on the ground. This initiative led to the publication of the 'Low Carbon Wales' report.
Developing 'Low Carbon Wales'
"Building on our partnership work with the Sustainable Development Commission Wales, each Area Group will develop practical plans to move towards becoming a low-carbon region..." (Wales Spatial Plan, 2008 Update)
In 2008, the Welsh Assembly Government commissioned the SDC to help each region develop plans to become a 'low carbon region', in light of our role as government advisor and our expertise in the field of climate change and energy. This was done to meet its commitment in the 'Wales Spatial Plan', a 20 year strategic development framework for Wales.
Phase one of the project involved developing advice on two key issues:
Defining a 'Low Carbon Region'

Tailored advice on how each area of Wales can cut emissions, in a way that is appropriate to that region.
In 2009 the SDC held workshops across Wales, drawing on the views and expertise of stakeholders in each region. The Commission also carried out research to draw on international best practice. The Commission worked closely with the government's Wales Spatial Plan team and Wales Spatial Plan Area Groups in each region e.g. North-West Wales. The area groups bring together local authorities, the private and third sectors, and the Welsh Assembly Government and its agencies to work towards a sustainable strategic vision for the Region. This led to the publication of a comprehensive report "Low Carbon Wales"
The launch of 'Low Carbon Wales'
"A Low Carbon Region can be defined as a Region which has cut its CO2 emissions by 80% against a 1990 baseline." (SDC Low Carbon Wales report)
'Low Carbon Wales' was launched at the Wales Low Carbon Summit in Tredegar in November 2009, with advice for government at both national and regional levels.
The Commission identified two main opportunities: firstly, making low carbon choices easy for the public and secondly, different organisations (e.g. local councils, NHS boards, charities, businesses) working together to achieve this in their region.
Nationally, the report recommendations included:
A programme of action for the refurbishment of all existing homes

Significantly increasing energy generation capacity from community and large scale renewables

Providing the infrastructure and information needed to enable smarter transport choices – to enable people to switch to walking, cycling and public transport
Examples of the priorities for each region included:
Central Wales – Protecting carbon stored in the soil, engaging with communities to maximise the benefits of renewable energy.

North West Wales – Promoting local food, generating low carbon electricity, protecting soil carbon.

Swansea Bay and Western Valleys – Working towards a low carbon economy: supporting research and development of low-carbon technologies and exploring opportunities for the knowledge economy in a low-carbon future.
Peter Davies, SDC Commissioner for Wales said:
"Firstly, we need to make the right choices 'citizen-easy'. It should be easier to take public transport, easier to eat local food and easier to heat our homes cheaply with less fossil fuels. Living a low-carbon life should be a pleasure, not a battle. Secondly, we need to work together at a regional level. The regions of Wales reflect our every day lives – our journey to the shops, the rugby or to work often cross local boundaries."
The launch generated significant interest both inside and outside government. The then Minister for Finance and Public Service Delivery Andrew Davies said:
"The SDC has identified that there are a lot of good initiatives to reduce carbon emissions in Wales, however these are often in isolated pockets. We now need to significantly scale up the good practice in order to have a meaningful impact on carbon emission reduction. The Wales Spatial Plan process provides the ideal mechanism to do this."
Delivering Low Carbon Regions
Following the launch of 'Low Carbon Wales', in 2010-11 the SDC was commissioned to deliver phase two of the Low Carbon Regions initiative. In the Spring and Summer of 2010 the SDC, working with the Wales Spatial Plan Area Groups, held another round of workshops across the country to begin turning the advice into reality. Events were held in St Asaph, Bangor, Aberystwyth, Carmarthen and Trefforest.
Dr Gavin Bunting, SDC Senior Policy Advisor, responsible for the development of the Low Carbon Regions initiative, explained why the workshops were important: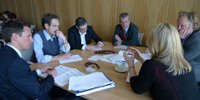 "The workshops are designed to help the Wales Spatial Plan Area Groups put carbon reduction into practice, using the expertise and ideas of participants along with our advice to identify what needs to be done first and who needs to do it. As each region sets up a Low Carbon Working Group, the workshops will help them start taking action. I am grateful for the large number of people who contributed to the workshops and showed such enthusiasm to reduce carbon emissions across Wales."
Work began to set up Low Carbon Working Groups in each region. In September 2010 the South West group – the 'Low Carbon Taskforce' – met for the first time and the 'Low Carbon South West Wales Routemap' was also launched at the National Botanic Garden in Carmarthenshire.
The Routemap is a blueprint for South West Wales to become a 'low carbon region', jointly developed by representatives from a number of public, private and third sector organisations in the region, together with the Welsh Assembly Government and the Sustainable Development Commission Wales. It sets out a vision of the South West as Wales' first 'low carbon region', describes the role of the region's low carbon task force, including early priorities such as establishing a forum for renewable energy development and establishing a low carbon brand for the region.
The document was launched by Minister for the Environment, Sustainability and Housing and Spatial Plan Lead Minister for South West Wales, Jane Davidson AM, who said:
"The Welsh Assembly Government has a clear role to play in leading action to help the transition to lower carbon living and ensuring that we capitalise on the many associated economic and environmental benefits. However we know we need to work closely with businesses, local government and the wider public sector, the third sector, communities and individuals to make this a reality."
A similar process began in the other regions of Wales. In the Central Wales region a group was formed to address soil carbon stores, an important carbon issue in that part of the country.
Conclusions
While tackling carbon emissions is a global problem, the best way to reduce emissions will vary from place to place. The Wales Spatial Plan regions provide a suitable level for addressing this, as they reflect the regions in which people live their lives. The Spatial Plan also allows carbon emissions to be cut in a way which is consistent with the social, environmental and economic aspects of sustainable development, bringing together key people and organisations in each region to harness the many other benefits this approach can provide, such as jobs, health and energy security. The Low Carbon Regions initiative has already given key people and organisations the knowledge and structures they need to begin making the big changes we need for a low carbon and sustainable future.
» Download 'Low Carbon Wales' and related documents
» Download the 'Low Carbon South West Wales Routemap'