We are the UK Government's independent adviser on sustainable development. Through advocacy, advice and
appraisal, we help put sustainable development at the heart of Government policy
Greater use of wood fuel could radically cut climate change emissions
26 February 2006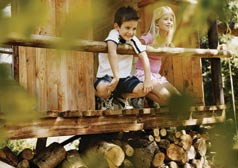 "As many as one in 10 of Scotland's homes could be heated by a humble new fuel that is renewable, affordable and could dramatically cut pollution – wood." Sunday Herald, 26th June

In a report published today, the Sustainable Development Commission (SDC) in Scotland demonstrate that wood-fuel heating could make a significant contribution to cutting carbon emissions – while providing much needed new rural jobs, and reducing fuel poverty. The report, 'Wood Fuel for Warmth', examines the issues surrounding wood fuel for heat in Scotland.

The report makes a series of recommendations designed to enhance the use of wood fuel as a much needed contribution to reductions in carbon emissions, which will be required to deliver the stretching targets set by the Scottish Executive.

SDC Commissioner, Hugh Raven, comments, "Our report shows that wood-fuel heating could radically cut climate changing emissions from household heating systems, while creating jobs and tackling fuel poverty at the same time. In the households installing such systems, emissions for heating and hot water could be cut by up to 96%. With a reasonable level of take-up, likely to be in rural areas, almost a quarter of CO2 emissions from Scotland's domestic space and water heating could be cut."

The report recommends that action needs to be taken to:

Formulate a clear and coherent renewable wood fuel heating strategy within a clear policy framework, which sets out targets for renewable heat uptake
Investigate a Renewable Heat Obligation
Investigate the concept of 'clusters' to introduce economies of scale into wood fuel supply, involving existing wood processors
Increase capital grants under the Scottish Community and Householder Renewables Initiative (SCHRI)
Clarify the definition and application of VAT to wood fuel heating appliances and fuels
Secure grant funding through the Community Energy Programme for community biomass schemes that local authorities can bid into
Establish directly supported domestic and large scale demonstration projects to build confidence Large-scale conifer planting in Scotland in the 1960s and 1970s means potentially large volumes of timber will come into production over the next two decades. Renewable energy from wood is particularly relevant to Scotland, where a significant resource and an established forestry culture coincide with a high fossil fuel prices and a substantial demand for heat.
Hugh Raven added, "This is a real opportunity for the Scottish Executive to meet several of its policy objectives simultaneously, by encouraging uptake of a technology that is commonplace in many other northern European countries. We have the wood, we have the rural communities with ample forestry industry skills, and we need the heat. Now we need public policy in Scotland to catch up with Scandinavia and Austria."

The report will be used by the SDC to influence current Scottish Executive policy development – on Scotland's Forestry Strategy, Energy Strategy, Sustainable Development Strategy, and the review of the Scottish Climate Change Programme. It will also contribute to the UK Government's emerging strategy for micro-generation.

Jonathon Porritt, Chair of the SDC, added, "This is a very timely and important report, the rest of the UK has a lot to learn from it, in terms of shifting attitudes and policies for a more sustainable energy future."

The report features three case studies, including the Whitegates housing development in Lochgilphead. Owned by the local housing association, Fyne Homes, this is a development of 50 residential properties heated by a wood fuelled district heating scheme. The boiler house and fuel store supply hot water to each house. Inside each property there is a heat exchanger that takes heat from the hot water of the district heating network and supplies this heat to a separate and independent central heating and domestic hot water supply. Fuel is supplied by Ewan Johnston and Sons, a small family business near Campbeltown, who have diversified from farming and established Auchencorvie Sawmill. The fuel, in the shape of wood chips, is a co-product of the sawmilling of wood from the local Kintyre forest.

» Download the report: Wood Fuel for Warmth