We are the UK Government's independent adviser on sustainable development. Through advocacy, advice and
appraisal, we help put sustainable development at the heart of Government policy
Wind power in the UK
26 February 2006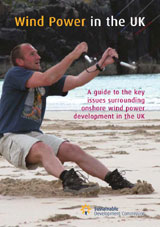 "A recent report by the government's Sustainable Development Commission was hailed by the industry as a breakthrough because it showed wind power was becoming price competitive with other fuels."
Mark Townsend, Observer, 26th June

"The most comprehensive study of wind energy in Britain"
Geoffrey Lean, Independent, 15th May

» Download 'Wind Power in the UK' (revised Nov 2005)
"Because of the highly charged debate on wind power the report has been peer reviewed, like a scientific paper, to give it greater credibility so it can be used by planners as an authoritative document"
Paul Brown, Guardian 19th May

Over 40,000 copies of the two reports already distributed!

Wind power: tackling climate change and energy security
According to a report published by the Sustainable Development Commission (SDC), to tackle the problems of climate change and energy security, wind power must be made to work.

'Wind Power in the UK' is set against the Government target to increase the contribution of renewables to UK electricity to 10 per cent by 2010 – with an aspiration of 20 per cent by 2020 – as part of efforts to dramatically reduce greenhouse gas emissions while enhancing energy security. The report aims to help policy-makers and planners balance genuine local concerns with wider environmental and social needs, so the benefits of renewable energy are realised through careful design and consultation.

SDC Chairman Jonathon Porritt said: "Climate change will have a devastating impact unless urgent action is taken to boost the contribution of renewables, alongside energy efficiency measures. For this to happen, good decision-making is needed, and this requires reliable, up to date information, based on the best available scientific evidence. We believe wind power is a critically important part of the overall energy mix, and hope that this authoritative guide will ensure wind power is harnessed in the most responsible way to ensure that emissions of carbon dioxide are reduced".

As well as acting as a practical guide for those involved in wind farm development, the report says:



The UK has the best and most geographically diverse wind resources in Europe, more than enough to meet current renewable energy targets
Technological advances mean there are no limits to the amount of wind capacity that can be added to an electricity system
Planners and decision-makers should involve communities in effective public consultation from an early stage, and their concerns must be addressed; solutions exist to many such issues
Onshore wind is one of the cheapest forms of renewable energy and increasing supply to 20 per cent by 2020 would present only a very modest increase in cost for consumers that compares well with other energy sources. Indeed, as fossil fuel prices increase and wind turbines become cheaper to build, wind power may even become one of the cheapest forms of electricity generation over the next 15 years
Wind power will displace fossil-fuelled plant, and there is no need for dedicated 'backup' plant to cope with wind
Wind farms have been most successful where good working partnerships are formed
Commissioner and Chair of SDC's Energy and Transport Steering Group, Dr Bernard Bulkin said: "The development of onshore wind power is essential if we are to meet the Government's renewable energy targets, as part of a broader programme to reduce carbon dioxide emissions. This report shows that wind energy, both on and offshore, has a huge potential resource – more than enough to meet current targets. Support for wind power needs to go hand in hand with a push for much greater energy efficiency – in transport, households and the public sector".

Commenting in the report foreword, Sir Tom Blundell, former Chairman of the Royal Commission on Environmental Pollution, says: "I am pleased to note that the SDC report confirms that wind is both the cheapest and one of the most abundant of the UK's renewable resources. At current levels of gas prices, and certainly if credit is given for its carbon-free status in line with current Government estimates of the social cost of carbon, it is already cost-competitive with gas-fired electricity on the best onshore wind sites, and seems likely to be the cheapest of all forms of power generation by 2020 on such sites, even without a carbon credit".

One example in the report is Black Law in Scotland, where ScottishPower and RSPB Scotland established a way of working together to integrate habitat enhancement with wind farm development. According to RSPB Scotland Director, Stuart Housden: "Black Law highlights the benefits of finding wind farm sites where there are no conflicts with conservation interests... given the wind farm did not present a significant threat to bird life, and following detailed negotiations… we have together secured a really positive project that brings significant environmental benefits to the area".

» Download our full report 'Wind Power in the UK' (revised Nov 2005)
» Download our booklet 'Wind Power: Your Questions Answered', for householders

» OR - order copies and we will post them to you

» Wind Power Q&A

» Seeing the light: Microgeneration brings energy to life - our latest report
» Read more about the SDC's climate change work
» Read the UK Government's strategy for sustainable development