We are the UK Government's independent adviser on sustainable development. Through advocacy, advice and
appraisal, we help put sustainable development at the heart of Government policy
Press
SDC: Stop decline in UK food production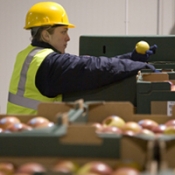 10 July 2009
Seven point plan to create sustainable food system
The Sustainable Development Commission published its recommendations to Government for a sustainable food system in the UK, just days before the House of Commons' Environment, Food and Rural Affairs Committee is expected to publish its findings from the inquiry into securing UK food supplies up to 2050.
The SDC's paper calls for a new definition of food security in order to feed everyone sustainably, equitably and healthily. The SDC calls on the Government to make a clear statement of intent to encourage maximum levels of appropriate and sustainable food production in the UK.
The current food system is failing sustainability by only focusing on food being affordable, accessible and available. Rocketing food prices last year, accelerating climate change, and a growing number of environmental crises have shown that sustainability is the only basis for food security.
SDC Commissioner Professor Tim Lang said:
"In recent years, governments have relied on big food retailers to deliver low prices in the name of a 'cheap food policy'. Rocketing food prices last year have shown how volatile this system is. Government must now put resilience and sustainability at the heart of its food policy.
"Focusing on sustainability in this way will integrate economic, environmental and social outputs. Growing more of the strawberries we consume in the UK is fine, but strawberries grown without regard to the environment, in acres of plastic poly-tunnels, and too often picked by migrants working under less than desriable conditions, is not what we want more of."
Measured against the goals of sustainability, the current UK food system fails: It is a major source of greenhouse gases, pays little attention to soil quality and water intensity, and is responsible for one in four lorry trips on UK roads, half of which are empty. In addition, the diet it delivers is a major contributor to preventable ill-health through excess salt, sugar and fat.
Professor Lang said:
"Cheapness and sustainability should never be confused. The way we are feeding ourselves today will seriously compromise future generations' ability to feed themselves.
"We need a more ambitious sustainable food policy from Westminster and the Devolved Administrations. The SDC would like to see Government taking the initiative to explore how EU's Common Agricultural Policy can shift in a sustainable direction."
» Download Food Security and Sustainability: The perfect fit