We are the UK Government's independent adviser on sustainable development. Through advocacy, advice and
appraisal, we help put sustainable development at the heart of Government policy
Press
Preparing young people for employment in green economy 'Vital to tackling youth unemployment'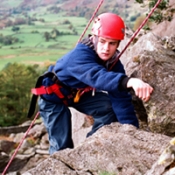 28 October 2010
Green exercise, outdoor activity and environmental volunteering improve young people's wellbeing and personal responsibility as well as maximising employment chances.
A new report published today (Thursday 28 October 2010) by the Sustainable Development Commission calls on the Government and service providers to do more to help young people prepare for the green economy in order to tackle youth unemployment.
The report also highlights how young people can improve their health, behaviour and sense of personal responsibility through environmental activities and volunteering, with direct relevance to reducing youth offending.
Improving Young People's Lives: The role of the environment in building resilience, responsibility and employment chances finds that by expanding its emphasis on environmental activity and green skills for young people, the Government would enable them to take advantage of opportunities in a growth area.
The number of unemployed 16-19 year olds rose to 934,000 in 2009. Young people who spend significant amounts of time out of employment, education or training are at increased risk of unemployment, depression and ill health in later life.
However, the UK's low carbon economy is currently ranked sixth largest in the world. It has been estimated that improving home energy efficiency in the UK could alone provide 20,000 new jobs; and a Government-commissioned study has predicted an estimated 400,000 jobs in sectors working towards lowering the UK's carbon emissions by 2015. The report recommends focusing on making Science, Technology, Engineering and Mathematics (STEM) subjects more interesting to young people to provide them with the skills to take advantage of emerging areas of employment.
The report also finds that providing structured environmental volunteering opportunities specifically for young people would support the Government's ambition to nurture civic responsibility through the Big Society. For example, the British Trust for Conservation Volunteers (BTCV) estimates that for every £1 spent, its People and Places volunteering programme generates £4 through reduced crime, increased employment and improved leisure facilities.
Research confirms that contact with the natural environment also improves young people's mental and physical health and wellbeing. Involvement in schemes such as Forest Schools has been demonstrated to improve young people's confidence, self-esteem, concentration and social and language skills.
The Sustainable Development Commission's Commissioner for Children and Young People Ann Finlayson said: "Enabling young people to connect with the environment – through volunteering to help improve their local area; challenging themselves with new experiences and working with others – offers holistic and long-term solutions to the problems which lead to disaffection, unemployment and antisocial behaviour. As we design the new National Citizen Service and the things we want from the Big Society, we would do well to take advantage of the opportunity to achieve more for less that an environmental approach offers."
The report recommends that the Government should:
Run a green thread through young people policy
Major new policies for young people should have an environmental dimension throughout

Expand green activity through social investment
Commissioning robust evidence on the economic and social benefits of environmental activities for young people will help the Government to unlock access to social investment funds.
It also recommends that commissioners and providers of services for young people should:
Empower the workforce and young people
Build the capacity of frontline staff to run an environmental dimension through their work with young people, especially to empower young people to develop personal responsibility


Focus on prevention
Young people should be entitled to participate in structured environmental activities as a means of building their resilience and self-esteem, boosting their physical and mental health, improving their achievement and taking responsibility

Draw on expertise of voluntary and community organisations Those involved with the commissioning of services for young people should draw on the insight and resources of community groups, charities and social enterprises wanting to provide environmental activities for young people
» Download Improving Young People's Lives: The role of the environment in building resilience, responsibility and employment chances