We are the UK Government's independent adviser on sustainable development. Through advocacy, advice and
appraisal, we help put sustainable development at the heart of Government policy
Press
SDC: 'Heathrow expansion without independent review of UK aviation is irresponsible'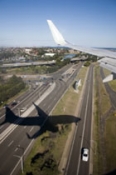 15 January 2009
The Sustainable Development Commission renews its call for a Special Commission to undertake a major independent review of UK aviation.
Commissioner Hugh Raven of the Sustainable Development Commission said:
"Pressing ahead with the expansion of Heathrow now is highly irresponsible. Air transport's true contribution to the UK economy has yet to be adequately reckoned, and we haven't yet understood the full impact of the current economic downturn on future transport patterns.
"There is no question that air transport will continue to play an important role in our lives in the 21st century; but massive questions remain over exactly what that role should be, and what proportion of carbon emissions we want to devote to it as opposed to our homes, food production and other forms of travel. Surely the government should be directing investment towards the creation of a low carbon economy rather than infrastructure that will lock us into high carbon activities?"
"It is clear that even the most optimistic estimates for cleaner aircraft technology will not be enough to allow aviation to grow in line with DfT predictions without resulting in increased emissions, and meanwhile the Committee on Climate Change describes current scientific understanding of aviation's other effects on climate change as only 'fair to poor'. And locally, there are serious questions over whether we can meet obligations on air quality and noise pollution, which must not be shirked. Convincing the public that the government takes climate change and environmental issues seriously will be even harder given this decision.
"A National Policy Statement on aviation will require a full review of the data underpinning aviation policy. A decision to press ahead with Heathrow expansion without doing this first is illogical. Heathrow remains one small part of the puzzle of creating a low-carbon transport system which supports a sustainable economy. Today's decision makes solving that overall puzzle more urgent."
Sustainable Development Commission Chair Jonathon Porritt said:
"It's good that the Government is committed to new investment in high speed rail, with a hub at Heathrow, but that in no way makes good an inherently flawed decision on a third Heathrow runway.
"Not only is this decision wrong in its own terms, but it also makes a nonsense of the Government's new Climate Change Act. In the process, it jeopardizes the ability of the UK Government to take a lead in crucial climate negotiations over the next few years."