We are the UK Government's independent adviser on sustainable development. Through advocacy, advice and
appraisal, we help put sustainable development at the heart of Government policy
Press
SDC welcomes government plans for home energy efficiency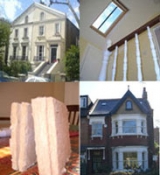 12 February 2009
The Sustainable Development Commission today (12 February) hailed as "truly visionary and very positive" the Government's plans to upgrade all 24 million UK homes to be near-zero carbon by 2030.
Anne Power, Housing Commissioner, said:
"Bringing the UK's 21million homes up to 21st century standards of energy efficiency is an enormous task, and the plans announced by DECC and CLG for achieving this by 2030 are truly visionary and a very positive step. Its potential to help low income families and areas is huge. But it can help everyone.
"Our homes account for over a quarter of our energy use, and a quarter of our carbon emissions. While getting newly built homes right is important, it is likely that the houses we live in today will still account for 86% of country's housing in 2050, so it's crucial that we make them as efficient as possible for the sake of future energy security, as well as tackling climate change. A 'pay as you save' package, by which initial investment in efficiency and renewable energy sources are covered by future energy savings is key to making this work, as is a whole-house approach to efficiency.
"Making our homes fully efficient will be a huge challenge, but one which will pay enormous dividends to householders, low income communities, the government and the environment. We hope the same scale of ambition will be applied to overhauling the role of energy suppliers as the government considers the new Supplier Obligation, and that this plan will quickly bring efficient homes a step closer to reality."
The Sustainable Development Commission's 2006 report Stock Take reviewed the potential for improving energy, water and waste efficiency in existing homes, and provided policy recommendations to realise these savings.
Recommendations included:
Development of a standard for sustainable existing homes that can be used to drive improvements across tenure types
Balancing any increase in CO2 emissions or water consumption in housing growth areas by matching this with a commensurate reduction in carbon emissions or water consumption in existing homes in the same region
Equalising VAT on refurbishment and new build to overcome the current distortion that encourages developers and home owners to demolish and replace homes instead of refurbishing existing buildings to high environmental standards
Using the enabling powers of the Sustainable and Secure Buildings Act 2004 to make sustainable development the driving force behind revised Building Regulations
Developing a one-stop-shop for whole house resource efficiency advice, finance and improvement works
The Sustainable Development Commission also worked with the UK Green Building Council Energy Efficiency Partnership for Homes and the Technology Strategy Board to present the Government with a report detailing requirements to reduce carbon emissions from existing homes.
For more information contact Rhian Thomas on 020 7270 8539 or 07825 106 803