We are the UK Government's independent adviser on sustainable development. Through advocacy, advice and
appraisal, we help put sustainable development at the heart of Government policy
Case study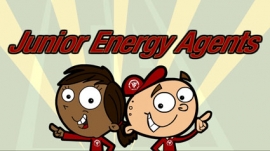 Yes, YOU can be a superhero!
Junior Energy Agents
Contributed by:
Greg David
Organisation:
Planet Sunday Ltd
Publication of any case study does not imply an endorsement of its merit by the Sustainable Development Commission.
A new scheme to encourage children to be superheroes by reducing our energy consumption.
Additional images
Click to see a slideshow of these images
Overview
When Planet Sunday was approached to design characters for a school in Germany, the UK animation studio decided to go one step further. Greg David, the studio's managing director explains...

We were initially approached to assist an eco-school project in the school by one of the teachers. The characters were to be used to engage the children in a scheme that the school were running, to get the children more involved, and to encourage them that they can make a difference to the environment.

The whole concept really appealed to us as a studio, and so we then went on to develop the Junior Energy Agents as a complete package and offer it to other schools.

The idea is pretty simple. Teachers can nominate children from each class to be Switchboys or Switchgirls. It is their responsibility to make sure that doors aren't left open needlessly, lights and electrical equipment are switched off after use, and taps aren't left running. Basically, wherever energy can be saved or reduced, Junior Energy Agents will be there!

When teachers purchase the pack from us, they will get custom designed Switchboy and Switchgirl characters, colour co-ordinated to match the school's uniform. They will receive these as images that can be used on websites, newsletters - wherever! They will also receive templates for Junior Energy Agents ID badges and certificates for the kids, as well as stickers and labels that will act as reminders for children and adults alike to close doors, and switch off lights, etc.

The entire JEA pack will be sent in electronic form, and the templates are designed to be used with popular Avery products. Schools can then use and re-use these as many times as they want, print off as many copies as they want - once the JEA licence is purchased, it's yours for life.

One teacher from the school in Germany said:

"When unveiled during a school assembly these characters were an immediate hit with the children from all year groups. Switchboy and Switchgirl help to cultivate the idea that we can all be energy super heroes. If the initial enthusiasm is anything to go by, the Junior Energy Agent campaign should be a winner."

For more information, visit our website: www.planetsunday.com

Key features
consumption
education
energy

Key data
Project Team: Planet Sunday Ltd
Cost:
Local Authority:
Client: Bishopspark School, Paderborne
Links
Cartoon animation studio
Where it all began...

---