We are the UK Government's independent adviser on sustainable development. Through advocacy, advice and
appraisal, we help put sustainable development at the heart of Government policy
Case study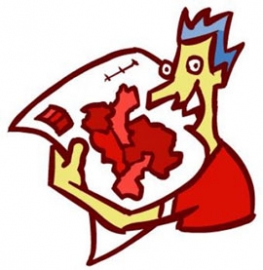 Mapping school travel
School Travel Health Check
Contributed by:
Andrew Combes
Publication of any case study does not imply an endorsement of its merit by the Sustainable Development Commission.
Using School Census data to support schools, officers and members in setting realistic targets for reducing car use.
Additional images
Click to see a slideshow of these images
Overview
"School travel plans are only as good as the data on which they are developed. Data can be better used, as evidenced by the The School Travel Health Check" "Improved data enables better targeting of activity by schools or local authorities, enhanced monitoring and benchmarking"
Towards a schools carbon management plan
The Sustainable Development Commission & DCSF

"The School Travel Health Check is, in my opinion, an invaluable tool for all those interested in improving the health and wellbeing of children. It provides such crucial information that I don't see how we can do without it.
If we want to get rates of cycling and walking up to the levels of the best European communities we need to use this data to make sure our transport plans will make that happen. If we fail to take maximum advantage of this opportunity we may fail our children."
Dr Gabriel Scally
Regional Director of Public Health for the South West

In essence I am taking elements from the annual School Census, Mode of Travel in particular and 'crunching' them to give a school level 'You are here' for travel to and from school (includes carbon and calorie stats).
None of it is rocket science, however, the clever stuff comes in the way it is undertaken and presented. By using a combination of high quality mapping / air photos and school friendly presentation of data we have come up with a pack of information that is accessible to pupils, schools, policy makers and elected members.

Better still, the School Travel Health Check approach is scaleable, financially sustainable and it works! A growing number of authorities are taking up this approach. As well as supporting School Travel Plans they are increasingly using the data as a foundation for their statutory Sustainable Modes of Travel to School Strategies.

Strengths? It works. Plus Having a very small core project team (me) it can maintain clarity of purpose – to support and facilitate the move away from car use for the journey to and from school.

Weakness? Very small core project team! The need to operate and fund on an authority by authority basis (and having a day job) limits the roll out. Thanks must be given to Dorset CC for supporting this work.

Enough of the waffle. Take a look at the folders on my Dorset viewfinder website. Start with School Travel Health Check, then School Census Spreadsheets. Follow that with Before you choose your school and then browse amongst the rest!

All feedback welcomed
Key features
education
energy
health
land use
local government
policy/framework initiative
transport

Key data
Project Team: Andrew Combes, data processing by Knowledge Mappers
Cost: Processing = £1500 plus £10 per school plus 1 penny per pupil. Paper output = £25 per school
Local Authority: Dorset County Council
Client: Dorset County Council
Links
New site to support the STHC
Beta example of public mapping of data - turn on school and walk threshold layers.

---