We are the UK Government's independent adviser on sustainable development. Through advocacy, advice and
appraisal, we help put sustainable development at the heart of Government policy
Case study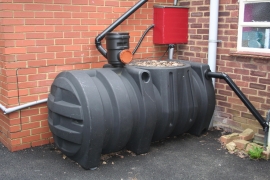 British Eco Rainwater Harvesting System
School Rainwater Harvesting
Contributed by:
Helena Wright
Publication of any case study does not imply an endorsement of its merit by the Sustainable Development Commission.
Fulmer Infant School in Buckinghamshire decided to install a British Eco rainwater harvesting system to recycle rainwater to flush the toilets.
Additional images

Click to see a slideshow of these images
Overview
Fulmer Infant School in Buckinghamshire installed a rainwater system from British Eco in 2008. The rainwater tank collects the rain from the roof to flush the toilets, instead of using mains drinking water. It has contributed to the schools 'Eco School' Status as well as helping the school to save money on the water meter bills.

Mrs. Forster has found that the rainwater recycling system is great for educational purposes to help the children learn about sustainability and reusing water. It has helped with teaching the children to reuse things and not to waste them. The school already has an environmental ethos and makes its own compost, so recycling rainwater is just one of the areas. The rainwater harvesting system has been one of the major projects contributing to the schools efforts to become an 'Eco School'.

With a rainwater harvesting system, rain water from the roof is collected in the tank and filtered to take out any debris. Rain water can be used to flush the toilets, for washing clothes or on the garden. It will reduce the water bills, saving money as well as the environment. In a domestic setting, rainwater harvesting can reduce water consumption by up to 50% while in a commercial setting it can reduce up to 80% of water consumption.

In the UK, we are ideally suited to rainwater harvesting since the UK is the rainwater capital of the world. However many buildings still use drinking water from the mains to flush the toilets; which is wasting fresh drinking water - our most precious resource. There are other environmental benefits from rainwater harvesting since the tank lowers the risk of flooding. Moreover, you can use rainwater in a washing machine to wash clothes which requires less detergent than using hard tap water.

At Fulmer School, they are already looking at other eco improvements such as Solar Panels.
Key features
consumption
education
energy
waste initiatives
water

Key data
Completion Date: 07/11/2008
Project Team: British Eco
Cost: £3,000
Local Authority: Buckinghamshire
Client: Fulmer School
Links
Information about Renewable Energy and Rainwater Harvesting

---